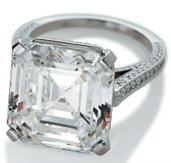 Hurley's 15.09 carat Assher cut
diamond engagement ring

Chopard's Creative Director and Co-President designed Elizabeth Hurley's engagement ring, a 15.09 carat Assher cut diamond, set in white gold and surrounded by a pave-set band, reports Vogue UK. Chopard also made the actress's wedding band, a white gold ring set with 20 square-cut diamonds with a total weight of 3.91 carat.
Hurley married Arun Nayer on Saturday. The couple picked the diamond out of the 'Haute Joallerie' collection at Chopard's Bond Street store.
Celebrity engagement rings have become a topic of great interest in recent years, influencing purchasing habits. Jennifer Lopez's 6.1 carat pink diamond engagement ring, from actor Ben Aflek, created a strong interest in the rare fancy color diamonds.
Britney Spears' 5 carat, double banded engagement ring was quickly copied, with cheaper versions of it becoming almost immediately available for fans.