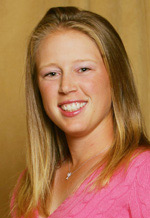 Golfer Morgan Pressel

Lab diamond maker Gemesis has signed teen professional golfer Morgan Pressel to a multi-year endorsement contract.
According to Gemesis CEO Stephen Lux, "[Pressel's] youthful style and elegance fits right in with the Gemesis corporate image."
Florida native Pressel said in a press release that she is a big fan of technology and diamonds, and therefore the endorsement deal was "a perfect match". She won the 2005 U.S. Women's Amateur Championship soon after turning pro.
At the age of 18, Pressel is the youngest woman ever to win an LPGA major when she recently won the 2007 Kraft Nabisco Championship.
Gemesis is the leading producer of cultured diamonds.